Next NASCAR Heat Race: February 1 - Race 2 of SUPRS 2022 Florida Speedweeks - Black Creek Speedway - 25 lap feature!
SUPRS 17th Season Starts October 6 with Harvest of Speed
Administrator | Monday, October 5, 2020 at 1:11pm EDT | SUPRS News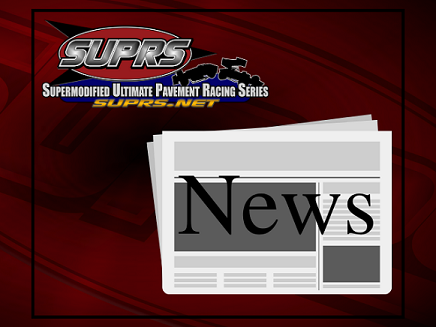 October 4, 2020 - Goshen, IN...

As has been the case for the previous 16 years, the Supermodified Ultimate Pavement Racing Series, (SUPRS), will kick off it's 17th consecutive Gold Crest Wing Supermodified Sim Racing Championship with the Harvest of Speed, October 6 at LaPorte Speedway, and will use the NASCAR Heat sim racing platform to do so.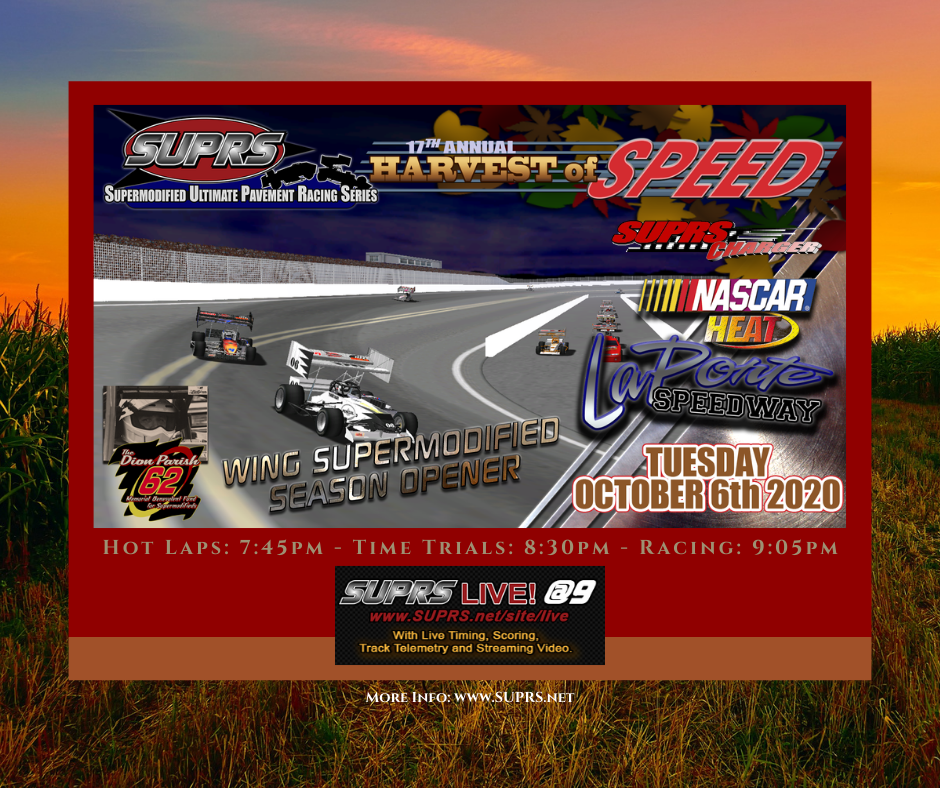 Winning Harvest of Speed is Hard



LaPorte Speedway is a fictional and tight 3/8th mile track located in Northern Indiana and it's been a mainstay on the SUPRS schedule since 2004. To say winning the season opener race at LaPorte is tough, would be an understatement. Since the first Harvest of Speed was run at LaPorte, two drivers hold seven of the 16 wins and a third has two.

Myles Maxon has the most Harvest of Speed victories with four, including three in a row form 2007-2009. Ray Sand, Jr. sits second on the all-time Harvest win list with three, winning every other year from 2011-2015. Bob Gangwer is the only other driver to have one more than one Harvest of Speed, and is the only driver other than Maxon to have won the challenging race back to back. Gangwer hauled in the Harvest of Speed in 2016 & 2017. won it.



Harvest of Speed First of Many NASCAR Heat Dates



The Harvest of Speed is the first of 15 NASCAR Heat dates on the challenging and diverse 2020-21 schedule that has a total of 41 races. The Harvest of Speed also kicks off the SUPRS/HeatFinder.net Supermodified Challenge. The SUPRS/HeatFinder.net Supermodified Challenge keeps points on all the NASCAR Heat feature races and is free and open to the public as long as drivers have registered on SUPRS website and joined SUPRS at the Silver Crest level.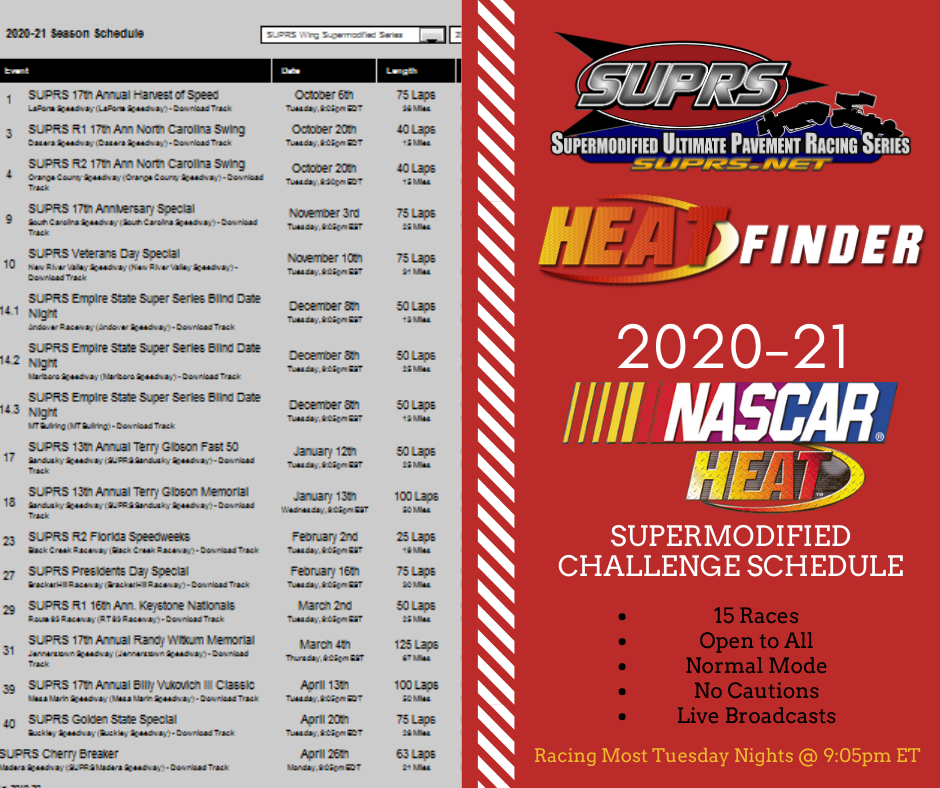 First Race of Indyana Supermod Challenge



This year's Harvest of Speed is also the first race of the Indyana Supermod Challenge, a multi-race, season-long mini-series that also includes races at Indianapolis Raceway Park.

With all the marks in the win column at LaPorte Speedway it should come as no surprise that SUPRS champions Myles Maxon and Ray Sand, Jr. also have the most Indyana Supermod Challenge Championships with Maxon having six and Sand, Jr. three. Rob Warren is the defending ISC Champion.

The overall Indyana Supermod Challenge Champion will be awarded 10 SUPRS Gold Crest Wing Championship points and receive a five-pound bag of Yoder's award-winning Indiana popcorn.



Harvest of Speed Details



SUPRS 17th consecutive season begins with the Harvest of Speed, October 6, 2020 at LaPorte Speedway. Practice begins at 7:45pm, with the Drivers Meeting taking place at 8:15. Time Trials follow at 8:30pm and Racing begins with the Fast Car Dash at 9:05pm. The full race format and schedule of events is available on the SUPRS schedule page.



Watch the Harvest of Speed Live



Follow your favorite SUPRS racers while you view timing, scoring, and live streaming video from the 2020 Harvest of Speed. Tune in at 9pm ET for SUPRS LIVE! to catch it all.



Become a SUPRS Member



There's still time to become a SUPRS member before the start of the new season. Anyone 16 years of age or older can race with "The Original Supermodified Sim racing Sanction" and enjoy fun, fair, and friendly competition in an organized, consistent, and transpartent environment. SUPRS has a unique vision that puts more focus on helping others than winning virtual races and anyone intersted can learn more by visitng the SUPRS "About" page.



Get Social with SUPRS



Fans of supermodified racing and online sim racers alike can learn more about the original online supermodified sim racing sanction when they visit www.SUPRS.net, The Supermodified Ultimate Pavement Racing Series is very active on social media where fans can "Like" SUPRS on Facebook, Follow @SUPRSOnline on Twitter, and View over 650 real supermodified racing videos, and archived SUPRS races on SUPRS YouTube. Fans can also enjoy chatting with each other on SUPRS Twitch page.

----------



Harvest of Speed Season Opener – LaPorte Speedway



2004 Harvest of Speed Season Opener Winner: N/A
2005 Harvest of Speed Season Opener Winner: John Davidson
2006 Harvest of Speed Season Opener Winner: Sean O'Kane
2007 Harvest of Speed Season Opener Winner: Myles Maxon
2008 Harvest of Speed Season Opener Winner: Myles Maxon
2009 Harvest of Speed Season Opener Winner: Myles Maxon
2010 Harvest of Speed Season Opener Winner: Gary Waldron
2011 Harvest of Speed Season Opener Winner: Ray Sand, Jr.
2012 Harvest of Speed Season Opener Winner: Chris Meyers
2013 Harvest of Speed Season Opener Winner: Ray Sand, Jr.
2014 Harvest of Speed Season Opener Winner: Myles Maxon
2015 Harvest of Speed Season Opener Winner: Ray Sand, Jr.
2016 Harvest of Speed Season Opener Winner: Bob Gangwer
2017 Harvest of Speed Season Opener Winner: Bob Gangwer
2018 Harvest of Speed Season Opener Winner: Keith Powell
2019 Harvest of Speed Season Opener Winner: Rob Warren

SUPRS – "Supermodified Sim Racing for the Right Reasons"

since 2004