Next NASCAR Heat Race: December 5, 2023 - Race 1 of SUPRS Empire State Super Series Regional Tour - Blind Date Night!
Presidents Day Double Header at New Hampshire Int'l Speedway First Since 2009
Administrator | Saturday, February 15, 2020 at 3:05pm EST | SUPRS News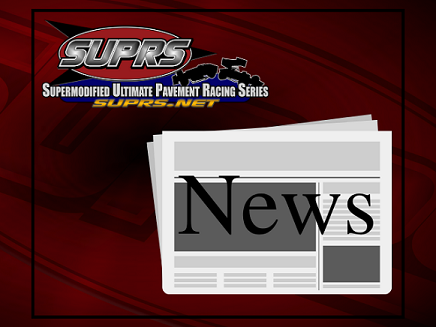 Goshen, IN – February 14, 2020…

Is it Washington's Birthday? Is it Lincoln's Birthday? Is it even a holiday? Whatever it is to you, on February 18, 2020 it's a way for the Supermodified Ultimate Pavement Racing Series, (SUPRS), and the NASCAR Heat sim racing community to honor the office of The President of the United States of America. And for the first time since 2009, the supermodifieds, and the mighty modifieds, will share a double dip of excitement on the mile at New Hampshire International Speedway.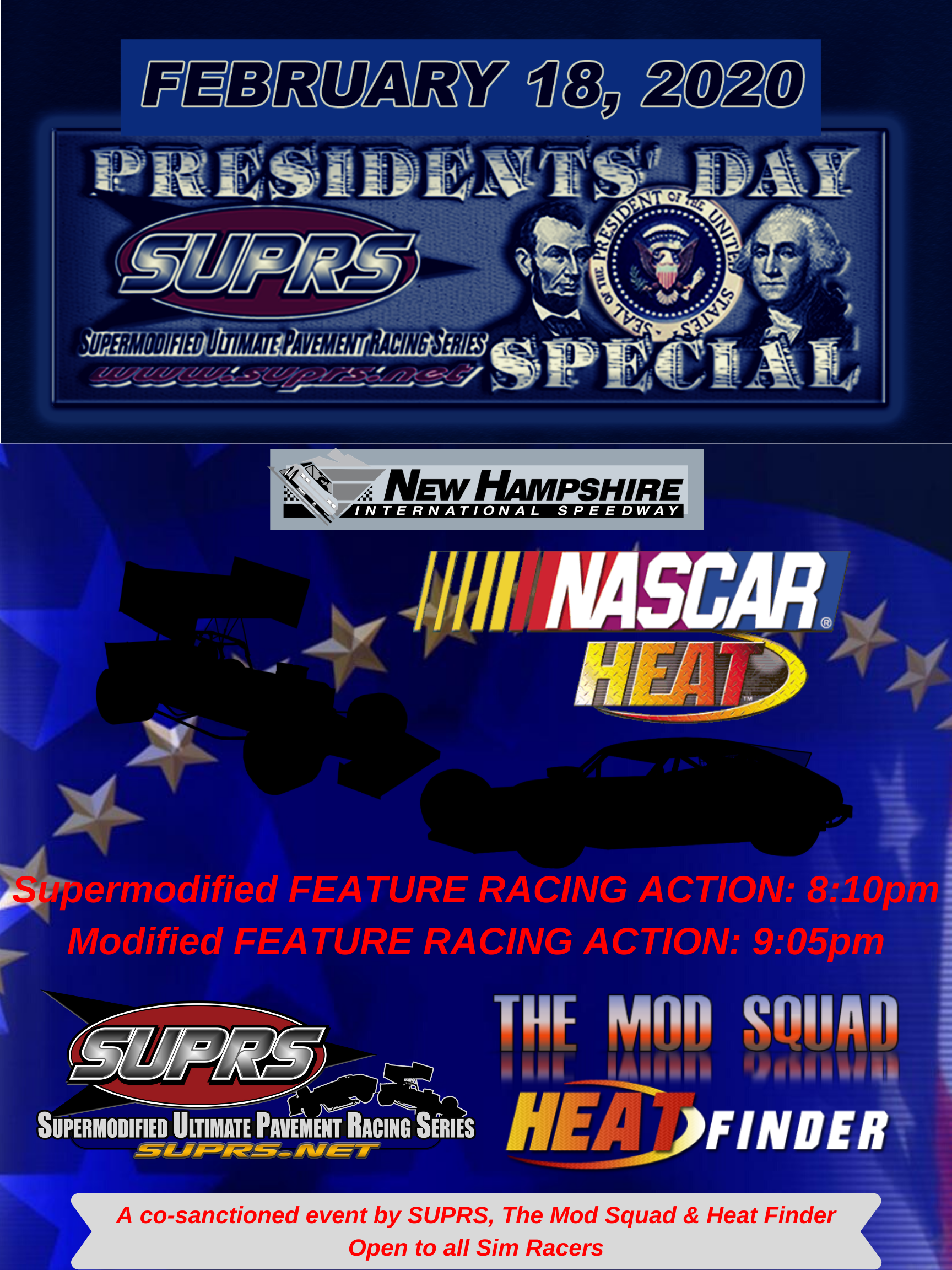 Big Night for NASCAR Heat Community

The NASCAR Heat community, featuring the best drivers of The Mod Squad, HeatFinder, NASCAR Heat Racing League, and SUPRS comes together to race supermodifieds and modifieds for a big night of NASCAR Heat sim racing at New Hampshire International Speedway on February 18. Both races are open to the public for any sim racer that has the correct files.



Cross-Over Expected



Organizers expect a fair amount of cross-over between the supermodified and modified classes, where fans will be able to see how the best of each discipline fair in a different type of car on the same night.

Reigning SUPRS champion, "Rocket" Rob Warren, and perennial ARL HeatFinder champion, Dave "Speedyman" Ohh , are expected to continue their heated rivalry while competing in both the supermodifieds and the modifieds. Keith Powell, who currently leads the SUPRS/HeatFinder Supermodified Challenge Series, (where points are kept just on NASCAR Heat supermodified races), will certainly be a threat in both classes, and indications are that NH Autosport drivers Jeff "Grumpy" Bivens and Rick "BlackKnight" Walls, will strap into their supermodifieds and modifieds on race night at New Hampshire International Speedway.

And while it's unclear if any of the NHRL regulars will compete, you can bet that if they show, they will be as tough as anyone on a track that everyone in the NASCAR Heat community is very familiar with.



Event Details



The supermodified portion of the event will be contested with SUPRS NASCAR Heat wing supermodifieds, (SUPRS W v6). The supermods are the under-card and get their night started at 7:15pm with Hot Laps. Time Trials, and Heat Races lead up to the the 25 lap feature scheduled to the take the green flag at 8:10pm. The SUPRS portion of the Presidents' Day Special at New Hampshire Int'l Speedway will run in normal mode, no cautions, and zero wear factor.

Following a quick break to switch race and voice servers, the TMS Super HEAT Modified Tour hits the track at 8:45pm for a quick five minute Hot Lap session. This is followed by Time Trials at 8:55pm, and the SUPRS TMS Presidents' Day Modified 75 presented by HeatFinder feature at 9:05pm. With 2x wear, Fixed Setups, and cautions, the modifieds should prove to be a race of strategy for all competitors.

Both races will be contested on the original New Hampshire International Speedway from the NASCAR Heat cd.

Enjoy Live Stream

Fans will be able to enjoy live streaming video of both divisions on the SUPRS Broadcasting Network and can tune in to SUPRS LIVE! beginning at 8pm ET for all the action.
Learn More about SUPRS

Fans can learn more about the original online supermodified sim racing sanction, the Supermodified Ultimate Pavement Racing Series, when they visit SUPRS.net.

Join SUPRS active and vibrant Social Media channels by "Liking" SUPRS on Facebook, Following @SUPRSOnline on Twitter, and viewing SUPRS videos on YouTube. Tune in most Tuesday nights for live supermodified sim racing at it's finest on SUPRS Twitch channel.

Learn More About Presidents' Day at History.com


---




Presidents' Day Special History Wing Supermodifieds



2005 Presidents Day Special Winner-John "Bud" Flath (38 Laps-New River Valley Speedway)
2006 Presidents Day Special Winner-John Davidson (38 Laps-New River Valley Speedway)
2007 Presidents Day Special Winner-Dave Biro III (25 Laps-New Hampshire International Speedway)
2008 Presidents Day Special Winner-Myles Maxon (25 Laps-New Hampshire International Speedway)
2009 Presidents' Day Special Winner-Ray Sand, Jr. (25 Laps-New Hampshire International Speedway)
2010-2013-No Race
2014 Presidents' Day Special Winner-Steve Callahan (75 Laps-New River Valley Speedway)
2015 Presidents' Day Special Winner-Ray Sand, Jr. (75 Laps-New River Valley Speedway)
2016 Presidents' Day Special Winner-Rob Warren (75 Laps-The Bullring-rFactor)
2017 Presidents' Day Special Winner-Keith Powell (75 Laps-Buckley Speedway)
2018 Presidents' Day Special Winner-Rob Warren (75 Laps-Buckley Speedway)
2019 Presidents' Day Special Winner-Rob Warren (75 Laps-Buckley Speedway)


---




Presidents' Day Modified History:



2005-2006: No Race
2007- N/A (NASCAR Heat – New Hampshire Int'l Speedway – 100 laps)
2008- N/A (NASCAR Heat – New Hampshire Int'l Speedway – 100 laps)
2009-Kris Heveron (NASCAR Heat – New Hampshire Int'l Speedway – 125 laps)
2010-2013: No Race
2014-Steve Callahan – NASCAR Heat – New River Valley Speedway – 125 laps
2015-NASCAR Heat – New River Valley Speedway – 125 laps – Cancelled
2016-2019: No Race

SUPRS – "Supermodified Sim Racing for the Right Reasons"

since 2004