Next NASCAR Heat Race: November 10 - veterans Day Special - New River Valley Speedway - 75 lap feature!
SUPRS Mod 200 Scheduled for August 12
Administrator | Friday, August 9, 2019 at 10:04pm EDT | SUPRS News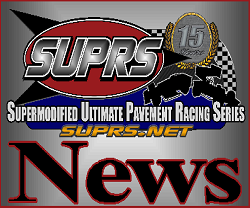 August 9, 2019 - Goshen, IN...

SUPRS is excited to announce that the SUPRS Mod 200 for tour type pavement modifieds, is returning as part of SUPRS 15th Annual Topless! 200 Week. The race hasn't been run since 2013, but with the help of The Mod Squad and Heat Finder, the event is set to run on Monday August 12, 2019.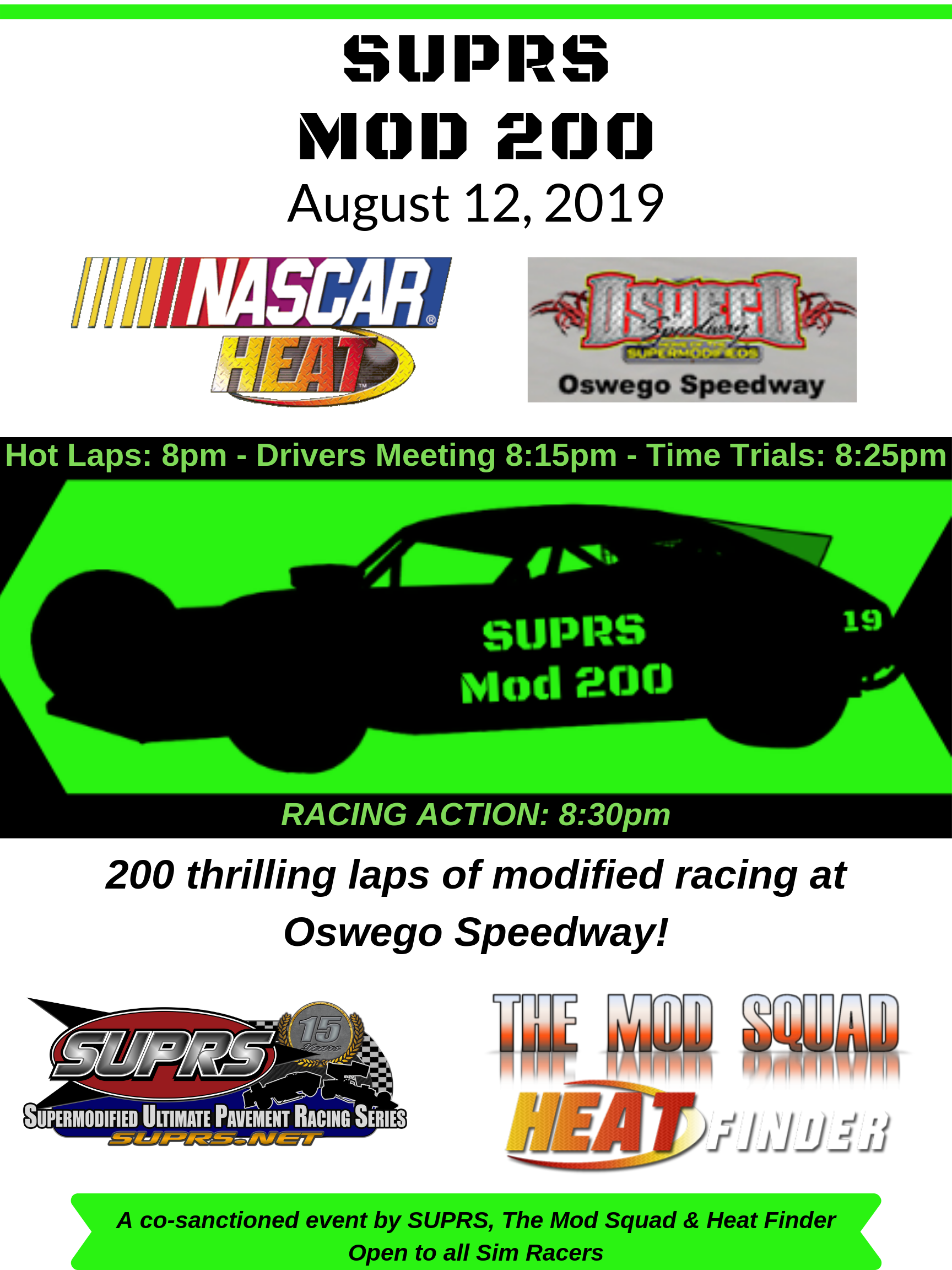 This race is modeled after the popular Bud Modified 200 that for many years saw some of the greatest modified drivers in the history of the division compete at Oswego Speedway over Labor Day weekend as a companion event to the International Classic 200 weekend.

It's hoped that this race, which is open to the public with no registration, will be a NASCAR Heat community building event and one that will showcase the talents of all of the many sim racers that still love to race NASCAR Heat and especially the "Mighty Mods."




DETAILS SUPRS Mod 200 Pavement Tour Type Modifieds



-Open to all online sim racers that have correct files.
-A SUPRS Sanctioned event hosted by The Mod Squad, presented by HeatFinder.net
-All drivers MUST be present upon commencement of time trials with headphones to be eligible to race. Mic is optional but preferred.
-SUPRS, TMS, and HeatFinder Rulebooks shall govern all race procedures incl. but not limited to formats, procedures, race length, conduct, etc.

Platform: NASCAR Heat
Modification: Super HEAT Modified Tour - DOWNLOAD LINKmust be registered at ModSquad.info to download)
Track: SUPRS Oswego Speedway V2 (DOWNLOAD LINK - must be registered at ModSquad.info to download)
Wear Factor: X3
Cautions: Yes. Driver Led according to TMS procedures
Set Ups: Fixed (DOWNLOAD SET UP - must be registered at ModSquad.info to download)
TeamSpeak 3 Info: Heat Finder: Enter URL: talk.heatfinder.net- PW: None
Race Server: Mod Squad NASCAR Heat race server. Enter I.P.-172.110.20.237
Drivers will use in-game skins on a first come first serve basis.
SUPRS.net - TheModSquad.info - HeatFinder.net
FORMAT:RACE DATA SHEET



Awards-


-Winner shall receive one year SUPRS Gold Crest Membership courtesy of SUPRS
-Winner shall receive custom trophy courtesy of WAG's Custom & Cool Awards
-Third place finisher shall receive Oswego Speedway International Classic 200 Yearbook courtesy of Wing Side Up enterprises
-Fifth place finisher shall receive one vintage Oswego Speedway embroidered patch courtesy of 1st to Finish Race Servers
-7th place finisher shall receive choice of one custom modified die-cut decal courtesy of BreezeGraphics.com
-Current Track Record-Oswego Speedway-Modified-NASCAR Heat: Ray Sand, Jr.-17.045-August 19, 2008



Race Night Times and Schedule of Events:


Hot Laps: SUPRS Mod 200: 8:00pm est
Drivers Meeting: 8:15pm est
Time Trials: 8:25pm est
Drivers to Cars: 8:28pm est
Driver Introductions: 8:28pm est
Green Flag SUPRS Mod 200: 8:30pm est
SUPRS LIVE! Broadcast Post-Race & Close: 9:55pm (Tentative)
All Servers Closed: 10:00pm