Next NASCAR Heat Race: February 1 - Race 2 of SUPRS 2022 Florida Speedweeks - Black Creek Speedway - 25 lap feature!
The Whistler Goes to SpeedyMan
Administrator | Friday, August 9, 2019 at 9:55pm EDT | SUPRS Race Results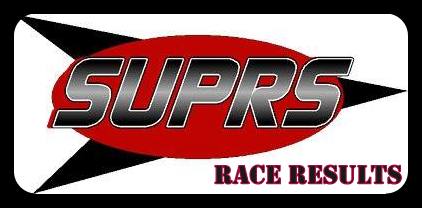 August 6, 2019 – Oswego, NY…

With six wins total, and now four in a row, there seems to be no slowing down SpeedyMan. His win in the Supermodified Ultimate Pavement Racing Series, (SUPRS), 15th running of The Whistler was a close one that saw him holding off 2016 SUPRS Champion Keith Powell by just .238 seconds at the line.





The hotly contested NASCAR Heat non-wing supermodified 60 lap feature race had three different leaders with plenty of close racing action throughout the pack. Defending series champion, Rob Warren, saw his points lead dwindle further when he came home a distant third.

The driver of the TMS Wolfpack "Black Beauty" roadster said, "This was a great race. Another very competitive show. Thanks to SUPRS for having us HeatFinder and Mod Squad guys."

"We had a great battle up front. I was working the high side and we were three-wide. I thought to myself, "this isn't going to work, "so I tucked back in behind Brad, (Keysor)."



Keysor Drops Back


Keysor, who had led the first 19 laps was fighting to hold onto an ill-handling race car after getting some damage while battling for the lead with Rob Warren. SpeedyMan saw his chance and was eventually able to slide under Keysor to take second as Powell followed him through.



Warren, Powell Battle


The battle was then on between rivals Warren and SpeedyMan. "That 35, (Warren), was awfully wide," explained the winner. "I had watched what Rob had done on Brad to get the lead, and it worked for me to get by him."

The 18-time ARL champ tried to stretch his lead while Warren and Powell dueled for second and Keysor fell further behind. Just when he thought he was in the clear, Powell mounted a charge to the front after passing Warren. "The last 20 laps, Keith really came on strong," SpeedyMan admitted.



Championship Hotter Than Ever


The win, not only puts SpeedyMan one away from having the SUPRS Bounty placed on his head, but also moves him to just 33 points behind Rob Warren for the title. With only two points paying events left including the prestigious Topless! 200, the title chase for SUPRS 15th Gold Crest Non-Wing Supermodified Championship is going right down to the wire. The win also guaranteed SpeedyMan a starting spot in the Topless! 200.



Topless! 200 Week Begins





Test-N-Tune Gets the Party Started



Everything kicks off August 11 with the SUPRS Sunday Night Test-N-Tune. The drivers will have a chance to put their wing and non-wing supermodifieds on the track to test their set ups while the SUPRS directors go through systems checks in preparation for Topless! 200 Week. In addition The Mod Squad servers will be up for drivers to get ready for the SUPRS Mod 200 for tour modifieds. Everything begins at 6pm eastern.

SUPRSNationals and SUPRS Mod 200 on Monday

On Monday, the racers strap on the wing for the the SUPRSNationals Winged Supermodified 50, which is the last Empire State Super Series Regional Tour show of the season.

Following that is the return of the SUPRS Mod 200 hosted by The Mod Squad and presented by HeatFinder. This race will use NASCAR Heat and the Super HEAT Modifieds mod by TMS. The 200 lap show will be contested on the TMS race server, while voice communications will be hosted by HeatFinder. All three series will provide officiating in this open to the public event.



Pole Night and Heat Races on Same Night



The non-wing supermodifieds take to the track on Tuesday August 13 with Time Trials for the 15th Annual Topless! 200. While everyone will take shot at the pole position, only the top two qualifiers will be locked into the 2019 Gold Crest Non-Wing Championship marquee event.



Time to Go Topless! on Wednesday



On Wednesday, August 14 the excitement of the season reaches a fever pitch with the running of the 15th Annual Topless! 200 at Oswego Speedway. Modeled after the famed Oswego Speedway International Classic 200 for real supermodified racing, the SUPRS Topless! 200 is hard to win just like the Classic.

Fans can learn more about all of these races by visiting SUPRS.net.



SUPRS RACE RESULTS:



SUPRS 15th Running of "The Whistler" Pete Trenca Memorial
Race 11 of 13
August 6, 2019
SUPRS NASCAR Heat NW 2 mod
SUPRS Oswego Speedway v2



Supermodified Heat Race 1 – 12 Laps (showing car number, driver name, hometown, sponsors-Top 2 eligible for feature invert)



35-Rob Warren; Pulaski, NY; 1st to Finish Race Servers, Designs of Elegance
11-SpeedyMan11; TMS Wolfpack
42-Carl Becker; Lansing, MI; Wholesale Diamond Exchange, Michigan Hill Gang
15-Grumpy; NH Autosport, Carolina Panthers


Time of Race:

04:24.015



Supermodified Heat Race 2 – 11 Laps (showing car number, driver name, hometown, sponsors-Top 2 eligible for feature invert)




3-Brad Keysor; Liverpool, NY; Southern Hills Storm Football, Justice League
41-Keith Powell; Carrollton, OH; Icings on Top, CPR Motorsports
25-Bob Gangwer; B&G Racing Photos, RW Woodworking
22-Zach Sears; Precision Fabrication, Midwest Supermodified Series


Time of Race:

04:12.655



Feature 60 Laps (showing car number, driver name, starting place, bonus, fastest lap, distance behind winner)



11-SpeedyMan11; P4 | ** | * | 16.158
41-Keith Powell; P3 | ! | 16.131 | +0.238
35-Rob Warren; P2 | * | 16.210 | +3.204
25-Bob Gangwer; P6 | 16.358 | +12.017
3-Brad Keysor; P1 | * | 16.146 | +1 Lap
42-Carl Becker; P5 | 16.280 | +1 Lap
15-Grumpy; P7 | 16.545 | +2 Laps
22-Zach Sears; P8 | 16.675 | +3 Laps



Time of Race:

17:50.545

* Denotes Lap Led
** Denotes Most Laps Led
! Denotes Fastest Lap of Race