Next NASCAR Heat Race: November 10 - veterans Day Special - New River Valley Speedway - 75 lap feature!
2018 North Carolina Swing Has Over 325 Laps of Feature Racing in Three Nights
Administrator | Saturday, October 20, 2018 at 12:31pm EDT | SUPRS News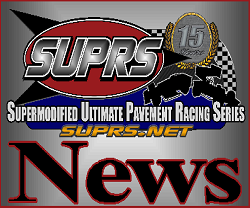 October, 19 - Goshen, IN...

The Supermodified Ultimate Pavement Racing Series, (SUPRS), 2018 North Carolina Swing puts supermodified sim racers through their paces over the course of three nights at five tracks, two sim racing platforms and over 325 laps of feature racing October 23-25. This intense string of races is considered by most as the toughest multi-race swing of the season and this year could be even more so with a new influx of skilled racers going up against the SUPRS regulars.






Different Tracks, Tough Format



All of the races are in North Carolina. Four real tracks, and one fictional track make up the interesting mix of varying venues. With the swing using both NASCAR Heat and rFactor, each track has its own nuances that each driver either finds to his liking or struggles to figure out.

In addition, the format of handicapping, based on prior finishes, guarantees an exciting race where every driver has to work hard to move through the field at each track in order to keep his hopes alive for an overall North Carolina Swing Championship.

The series kicks off Tuesday, November 23 with NASCAR Heat at Dasera Speedway and Caraway Speedway, moves to Concord Motorsports Park and Southern National Raceway Park the next night with rFactor. The North Carolina Swing then finishes off  at Hickory Motor Speedway on Thursday, November 25 where the winner of challenging "Hickory Hustle 75″ rFactor finale' will be crowned North Carolina Swing Champion.



Possible Twist to Swing



Certainly, one of the more interesting possibilities this year, is the fact that several newcomers may dictate the outcome of which drivers get invited to The Hickory Hustle. Because the first two shows on night one of the North Carolina Swing are part of the 14 race SUPRS NASCAR HeatFinder.net Open Show Challenge, the added twist of having drivers that excel at this particular sim racing platform will keep the driver going for the Gold Crest Wing Championship on their toes.



Bonus Points Available



With 15 SUPRS Gold Crest Wing Supermodified Championship bonus points on the line to the driver that can pull off this challenging feat, the SUPRS Stars are sure to be out in full force trying to get into the invitation only Hickory Hustle.

The Hickory Hustle takes the top eight in points after the first four races and pits them against each other with a random start and within the tight confines of Hickory Motor Speedway. It's just one more reason the North Carolina Swing crown is one of the hardest and most sought after for all the SUPRS drivers.



Warren Going for Second in a Row


Last year, Rob Warren become just the second driver in SUPRS history to win the North Carolina Swing more than once. This year he could become the second driver to win the North Carolina Swing back to back. If he does so, he joins Myles Maxon, who tops the list of North Carolina Swing champions at three, and who was the first to claim the crown back to back in 2009-2010.



Former NC Swing Champs Expected to Compete



Of the current crop of SUPRS racers, the aforementioned reigning SUPRS Gold Crest Wing Supermodified Champion Rob Warren, 2013-14 North Carolina Swing Champion Bob Gangwer, 2012-13 NC Swing Champ Carl "Bonzai" Becker, along with 2016-17 winner Steve Callahan are all expected to compete again this year.


CLICK HERE to learn more about the SUPRS North Carolina Swing History




Fans Can Follow the Festivities



Fans can follow the fun and excitement of the 15th Annual North Carolina Swing all three nights. The SUPRS LIVE! Timing and Scoring page keeps fans abreast of the action showing live streaming video, instantaneous position changes, lap times, penalties, race status and track telemetry.

The SUPRS LIVE! scrolling ticker allows fans to browse SUPRS.net while they keep their eye on the racing action. And if they can't make it to SUPRS.net for the live action, they can always catch up with the SUPRS On-Demand replays embedded right in the SUPRS LIVE! page video players.



Be Social with SUPRS



Supermodified racing fans and sim racers alike can learn more about the original online supermodified sim racing sanction when they visit www.SUPRS.net
.
The Supermodified Ultimate Pavement Racing Series is very active on social media where fans and sim racers can "Like" SUPRS on  Facebook,Follow @SUPRSOnline on Twitter,  and View over 370 real supermodified racing videos on  SUPRS  YouTube. Our live broadcasts are aired on our Twitch Channel where people can follow and join in the chat on race night.



SUPRS - "Supermodified Sim Racing for the Right Reasons"

since 2004


---
 SUPRS North Carolina Swing History-


2005 North Carolina Swing Champion: JP Curry-PA


2006 North Carolina Swing Champion: Sean O'Kane-NY


2007 North Carolina Swing Champion: Mike Jackson-NY


2008 North Carolina Swing Champion: Gary Waldron-MI


2009 North Carolina Swing Champion: Myles Maxon-NY


2009-10 North Carolina Swing Champion: Myles Maxon-NY


2010-11 North Carolina Swing Champion: Ray Sand, Jr.-NY


2011-12 North Carolina Swing Champion: Chris Meyers-OH


2012-13 North Carolina Swing Champion: Carl Becker-MI


2013-14 North Carolina Swing Champion: Bob Gangwer-IN


2014-15 North Carolina Swing Champion: Myles Maxon-NY


2015-16 North Carolina Swing Champion: Rob Warren-NY


2016-17 North Carolina Swing Champion: Steve Callahan-OH


2017-18 North Carolina Swing Champion: Rob Warren-NY


2018-19 SUPRS NORTH CAROLINA SWING SCHEDULE, FORMAT, PROCEDURES